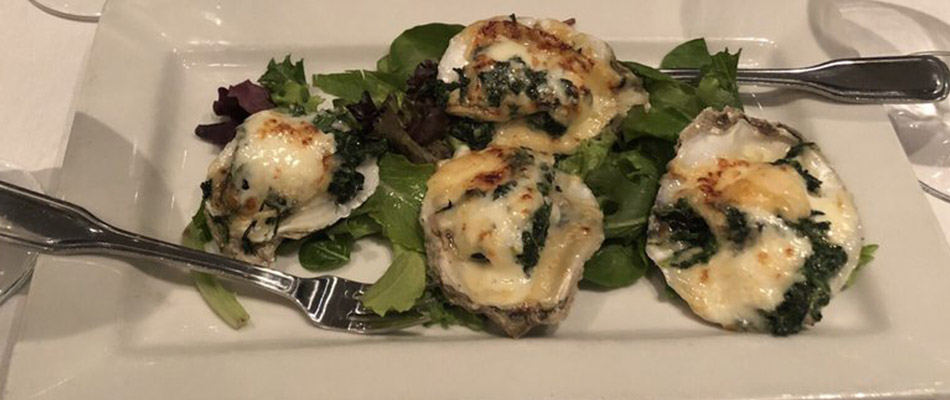 Brushetta
Seasonal, chef-inspired toppings. 6
Vogue Chips
Hot and crispy kettle chips, topped with gorgonzola cheese crumbles & drizzled with our creamy shallot dressing, with a side of hot sauce. 8
Flatbread
Seasonal, Chef Inspired toppings. 13
Smoked Salmon
Luxurious smoked salmon, spread of cream and capers, caperberries, red onion, toast points. 13
Fresh Oysters (1/2 dozen)
On a bed of crushed ice with fresh lemon, house-made cocktail sauce, & refreshing mignonette. 18
Beef Skewers
Savory miso-glazed beef skewers. Try them with a salad! 9
Tuna Tower
Tartare with layers of diced avocado, heirloom tomatoes and pico de gallo. Served with ponzu sauce, sliced ginger, and wasabi. 18
Oysters Rockefeller
Fresh oysters baked with creamy spinach and topped with aged Parmesan gratinee. 14
Shrimp Cocktail
A gasping presentation of 3 gigantic U7 shrimp with cocktail sauce and lemon. 19
Charcuterie Board
Freshly-sliced Artisan meats and cheeses served with a warm baguette, whole grain mustard, and date and port reduction. 20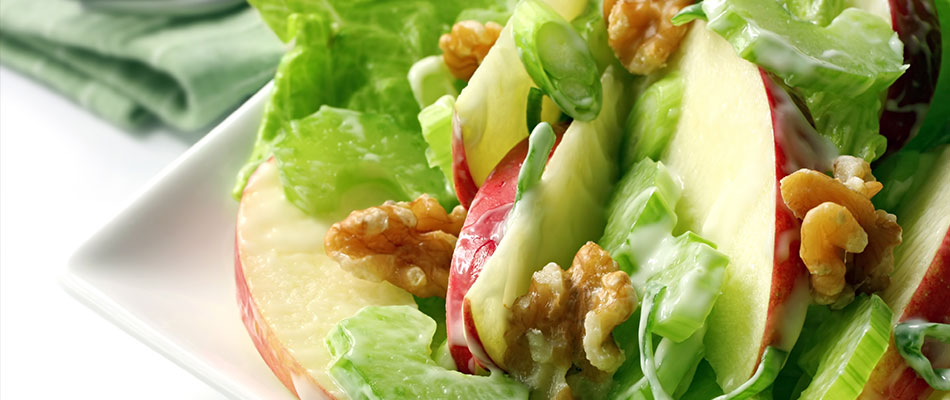 Quiche
Generous serving of our chef-inspired quiche of the day. 12
Onion Soup
Freshly baked, with gruyere cheese inside & covered with puff pastry. 10
Caprese Salad
Buffalo mozzarella, basil, heirloom tomatoes, aged balsamic. 13
Beet Salad
Spring mix & arugula w/roasted beets, candied walnuts & goat cheese. Champagne vinaigrette. 12
Waldorf Wedge
Bibb lettuce, apples, craisins, walnuts, celery w/creamy shallot vinaigrette.  13
Add gorgonzola & bacon +$2.
Vogue Salad
Unique green frisee, gorgonzola, bacon, pecans, cranberries, pumpkin seeds, sherry vinaigrette. 12
Vogue Fries 5
Sweet Potato Fries 6
Kettle Chips 3
Brussel Sprouts 6
Vogue Mac 'n Cheese 7
Soup du Jour 5
Side Salad 5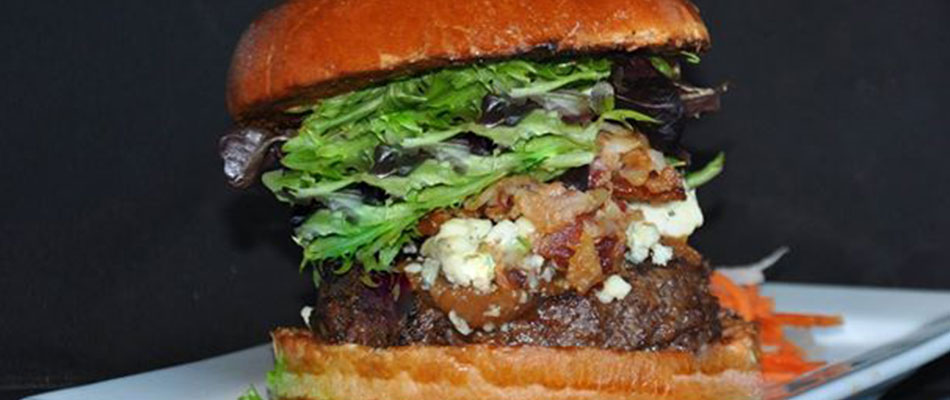 Substitute Beyond® Patty on any burger +$3
Vogue Burger
With gorgonzola cheese, bacon, savory chutney, fresh greens, and Vogue Sauce. 14
Blue Jeans Burger
All-American standard with cheddar cheese, lettuce, tomato & onion on the side. 14
Blue Jeans Burger
All-American standard with cheddar cheese, lettuce, tomato & onion on the side. 14
Arizona Burger
Chipotle chutney, asiago cheese, crispy tempura red onion, tomato, horseradish aioli 14
Salmon BLT
Salmon filet, lightly blackened & pan seared, with spring mix, heirloom tomato, bacon, & house made aioli on a toasted brioche bun. 19
Vogue French Dip
Savory shaved beef on toasted bread with Au Jus. Add onions, mushrooms and cheese for $3. 13
Crab Avocado Croissant
Crab salad with sliced avocado on a toasted croissant. 15
Garden Panini
Asiago cheese, roasted peppers, zucchini, & basil aioli. 10
Add grilled chicken breast +$3
Caprese Panini
Buffalo mozzarella, basil, heirloom tomatoes, aged balsamic. 10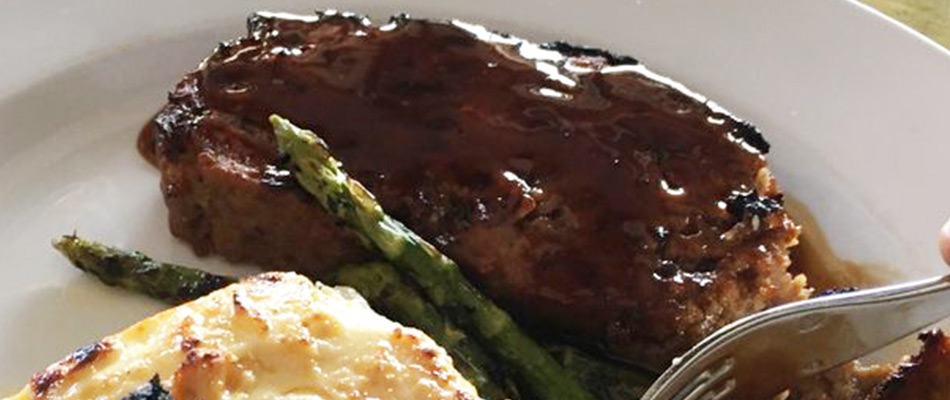 Combinations (Choose 2) 10
Half Panini-Caprese or Garden
(add $2 for chicken)
Cup Soup du Jour
Side Salad
(Choice of dressing)
Entrees Available for Lunch
Lasagna 18
Steak Vogue 26
Meatloaf 22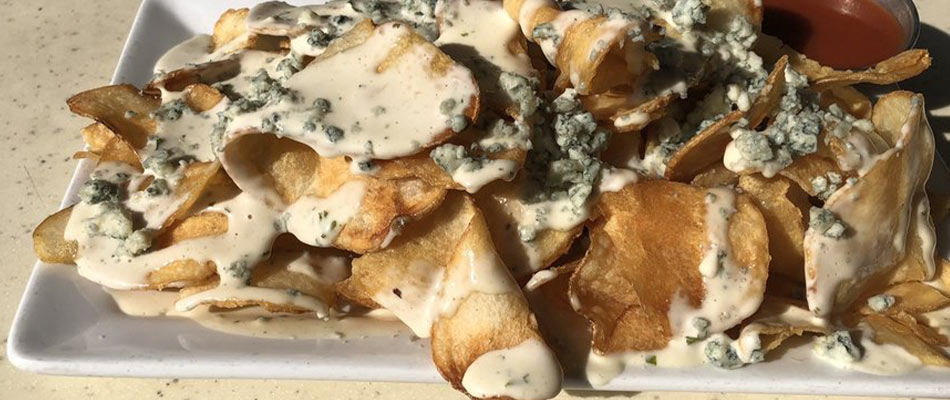 Seafood...
Fritto Misto
Tempura-fried, julienned calamari, bay scallops, carrots and ginger, served with light saffron aioli dipping sauce. Yum! 10
Fresh Oysters 1/2 Dozen
Served on a bed of crushed ice, accompanied by fresh lemon, cocktail sauce and a refreshing mignonette. 18
Crab Cake
Lightly herbed and breaded blue crab, served with a zesty red pepper remoulade sauce! Amazing and delicious! 14
Oysters Rockefeller
Fresh oysters, prepared to order & baked with creamy spinach and topped with a perfect layer of aged Parmesan gratinee. Savor! 14
Vogue Tuna Tower*
Tarare with layers of fresh diced avocado, heirloom tomatoes & pico de gallo. Dressed with a house-made ponzu sauce, garnished with sliced ginger & wasabi. 18
Shrimp Cocktail
A gasping presentation of gigantic U7 Shrimp, served over dry ice with cocktail sauce. 19
Add additional Shrimp for only $5 per

Crab Avocado Crostini
Zesty and refreshing crab salad and avocado slices with toasted crostini bites. 15
And the Rest...
Charcuterie Board
A gorgeous presentation of fresh artisan meats and cheeses with fresh fruit, whole grain mustard, date and port reduction and an artisan baguette. 20
Olives
Amazing select variety of fresh olives, awesome at every bite. 6
Beef Skewers
Savory miso-glazed beef skewers. A great starter. Try them with a salad! 9
Tuscan Flat Bread
Rustic crust with seasonal goods from our kitchen to your table. 13
Vogue Chips
Hot and crispy kettle chips, topped with gorgonzola cheese crumbles & drizzled with our creamy shallot dressing, served with a side of hot sauce. 8
Vogue Escargot
Delicate Burgundian Escargot baked with herb & garlic infused butter. This renowned French classic has never tasted better! 19
Brushetta
Artisan toasts with Chef's seasonal topping selection. 6
We serve fresh bread only upon request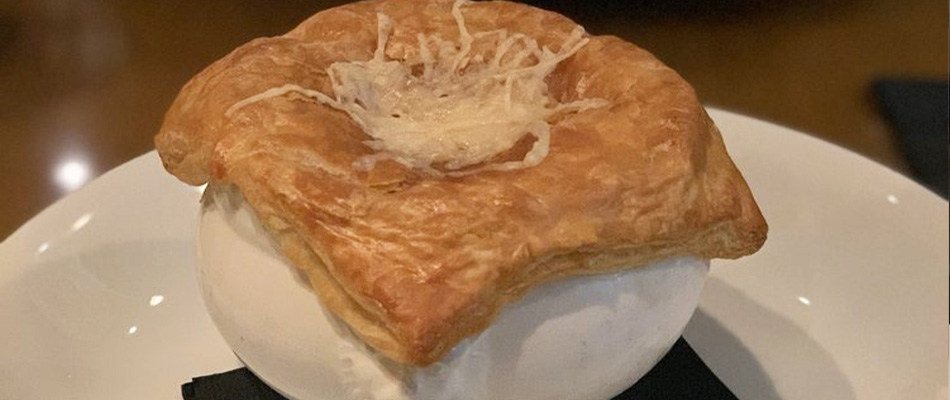 Vogue Onion Soup
So good! Quite possibly the best onion soup in the Valley! Baked to order with a puff pastry over the top and gruyere cheese melted inside. 10
Soup du Jour
Soup of the day. 5
Vogue Salad
Strikingly Original! Frisée, Gorgonzola blue cheese, dried cranberries, pecans, pumpkin seeds and juicy bits of applewood-smoked bacon tossed in warm Sherry vinaigrette. 12
Beet Salad
Strikingly Original! Frisée, Gorgonzola blue cheese, dried cranberries, pecans, pumpkin seeds and juicy bits of applewood-smoked bacon tossed in warm Sherry vinaigrette. 12
Caprese Classico
Fresh buffalo mozzarella, heirloom tomatoes, fresh basil, sprinkled with extra virgin olive oil and aged balsamic. 13
Waldorf Wedge
The most notable makeover of a classic since 1896. Bibb lettuce, apples, walnuts, celery, creamy shallot vinaigrette. 13
Add bacon, bleu cheese. $2.00
Add Protein to any Salad*
Breast of chicken, cold smoked salmon, crispy calamari & bay scallop, grilled salmon* +6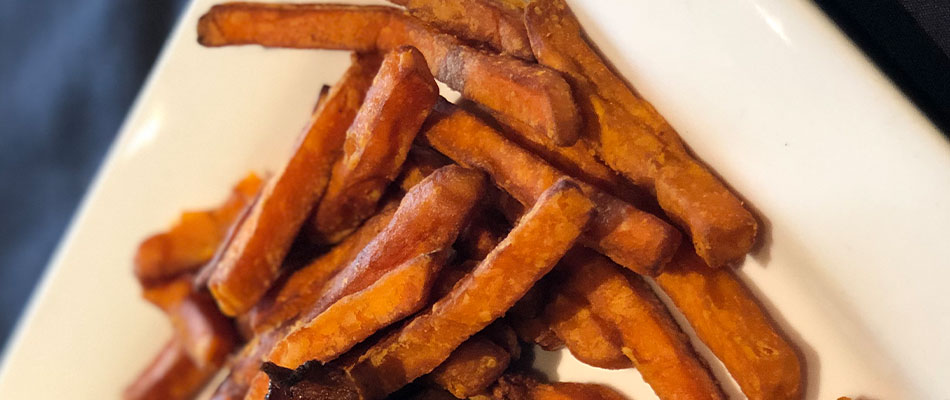 Vogue Fries
Crisp and delicious. A perfect accompaniment to entrees and sandwiches. A savory, spicy dipping sauce available on request. 5
Sweet Potato Fries
Luscious and healthy! Chestnut/Maple dipping sauce available. 6
Creamy Risotto
Savory rice, made with vegetable stock into a creamy, delightful side dish. 7
Vanilla Butternut Squash
Butternut squash, Tahitian vanilla beans, anise, cloves & Georgia pecans caramelized in maple syrup. 4
Creamed Spinach
Fresh spinach seasoned and creamed with a savory bechamel. 5
Garlic Mash
Hand mashed Golden Yukon, roasted garlic, herbs. 5
Seasonal Vegetables
Fresh, seasonal vegetables made to order. 5
Vogue Mac 'n Cheese
Our Chef's creative take on the timeless classic. Made with truffle oil and juicy bits of bacon. Kid's favorite! 7
Roasted Plantains
Caribbean treasure! Delicate, sweet and scrumptious. 6
Potato Au Gratin
Layers of golden Yukon potatoes and fine cheese patiently baked until golden brown. Potatoes have never tasted this good! 6
Balsamic Braised Brussel Sprouts
An amazingly delectable transformation of Grandma's recipe; give them a try! 6
Side Salad
Fresh local greens and your choice of one of our house made dressings. 5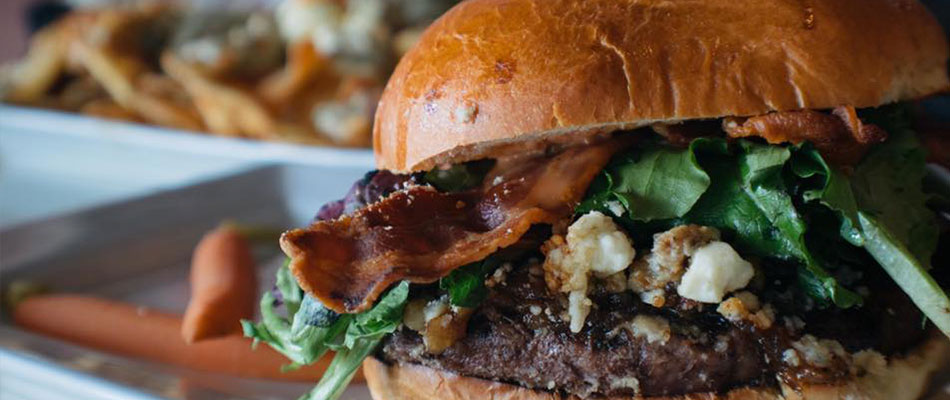 Vogue Burger*
An Original Masterpiece. All natural, Black Angus, Gorgonzola cheese, juicy bits of applewood-smoked bacon, savory chutney, greens, and Vogue Sauce. 14
Blue Jeans Burger*
All American Standard, Black Angus, Cheddar cheese, tomatoes, lettuce, red onions. 14
Arizona Burger*
Harness the Wild West! Chipotle chutney, asiago cheese, crispy tempura red onions, tomato and horseradish aioli. House favorite! 14
Vogue Beyond® Burger
All the flavor and protein of beef, but made from plants! With asiago cheese, heirloom tomatoes, tempura-fried onions, butter lettuce & garlic aioli. 16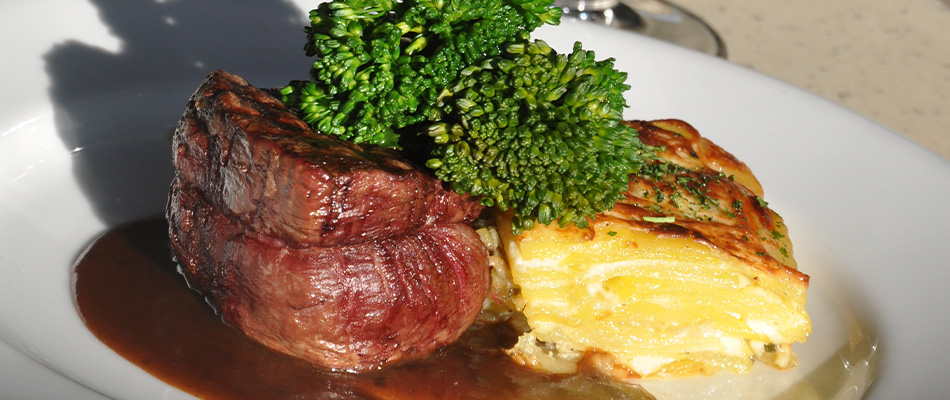 Seafood...
Salmon*
Gently seared, served with champagne cream sauce and with our creamy risotto and fresh vegetables. Delicious and amazing! 29
Shrimp & Risotto
Cajun-marinated, pan seared shrimp served with asparagus risotto and a cajun cream sauce. 24
Seafood Pasta
In-season seafood over house made pasta with roasted garlic cream sauce. 27
Steak...
Steak Vogue*
Delicious, prime grade Black Angus Flat Iron steak prepared with brandied peppercorn sauce and served with bourbon glazed sautéed mushrooms and crisp, ample Fries. 26
Filet Mignon*
6oz tenderloin of Angus beef delicately grilled and served with Potatoes Au Gratin, seasonal vegetables and a savory red wine sauce. 33
Make it Surf & Turf! Add a Grilled U7 Shrimp or Grilled Salmon +$6

And the Rest...
Coq Au Vin Chicken
Crispy, braised in red wine and served with roasted potatoes, carrots, mushrooms and pearl onions. 18
Duck Two Ways
Century-Old technique of preserved Confit Duck leg along side of a tender seared Duck Breast, served with fresh seasonal vegetables. Superb flavor! 27
Vogue Meatloaf
Award Winning local favorite! Handcrafted and served with Potatoes Au Gratin, seasonal veggies and a sherry sauce. 22
Lasagna
With Chef's magic touch, this timeless Italian classic raises the bar another notch. Baked to order and served simmering hot. With ground beef and pork. 18
Fresh Pasta
Fresh, house made pasta, selection of sauces, with fresh vegetables. 18
Chef's Special Entree 
Ask you Server about this week's special. Served with house salad or cup of soup du jour. MP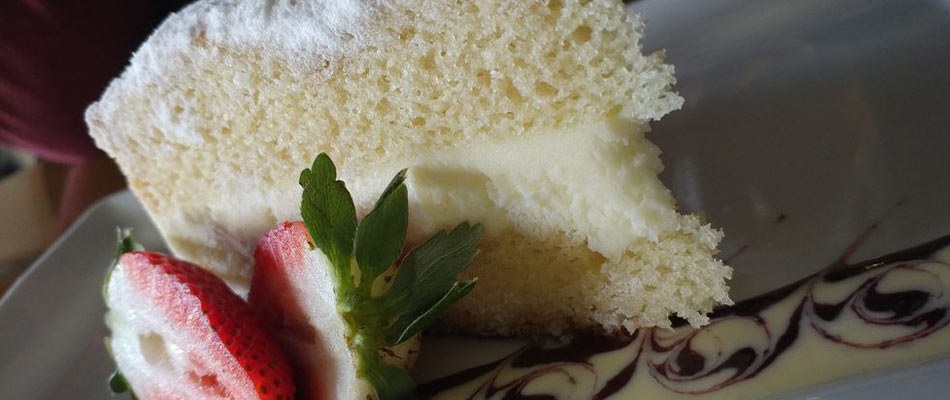 Chocolate...
Chocolate Pot de Crème
Indulgent creamy custard infused with chocolate. 6
Chocolate Collection
Assortment of the finest chocolates made daily. 12
The Cake
Dangerously decadent chocolate cake on top of a Madagascar vanilla and berry coulis sauce. 9
And the Rest...
Apple Tarte Tatin
Carmelized apples on top of a warm and delicate pastry, à la mode, with a whiskey caramel sauce. 8
Lemon Cream Cake
Light and fluffy with a creamy lemon filling, topped with powdered sugar and served with a berry coulis sauce. 7
Gelato & Sorbets
Mouth-watering flavors of the day for your pleasure. 5
Irish cream Cheesecake
Irish cream mousse with a chocolate sauce, and a chocolate graham crust. 9
Vogue Crème Brûlée 
Our answer to crème brûlée aficionados' prayers. 6
Bread Pudding
Classic dessert, with currants, cinnamon, topped with a whiskey caramel sauce and our house made vanilla gelato. 8